Web Series Air Traffic Controller
Live Production Details
DBS launched their new brand promise 'Live more, Bank less', reinforcing their push to being an 'invisible' bank by immersing themselves in the customer's life.
This event was 'live' streamed from the Singapore Art Science Museum at Marina Bay Sands, to a global audience. There was also an embedded 'live' Q&A session with questions coming in from remote and on-location viewers.
Analytics built into the Motion Media Works 'live' webcast platform also recorded views from third-tier cities in China. So, if you are looking for a reliable webcast platform for your next 'live' streaming event that needs to be broadcast globally (even to viewers in China), speak to us today!
We offer a fully supported end-to-end service from live streaming production to delivery.
Huobi's press conference in Singapore was streamed in 3 languages for viewers in China, Korea and Australia with live multi cast audio. Different streams were translated realtime on location at the press conference to be inserted into the livestream made available for the respective markets.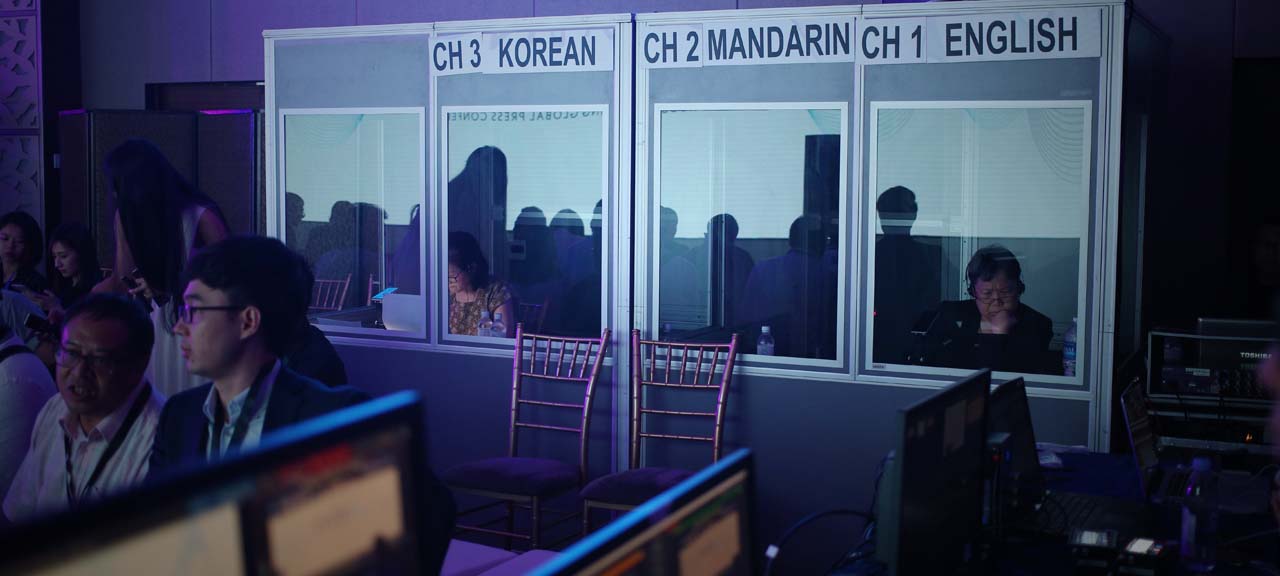 On location translation booths were setup to provide simultaneous real time translations for multi language live webcast streaming. Korean, English and Mandarin streams were available for the global online audience to pick from. On location, headsets were available for audience at Mandarin hotel to select the language of their choice.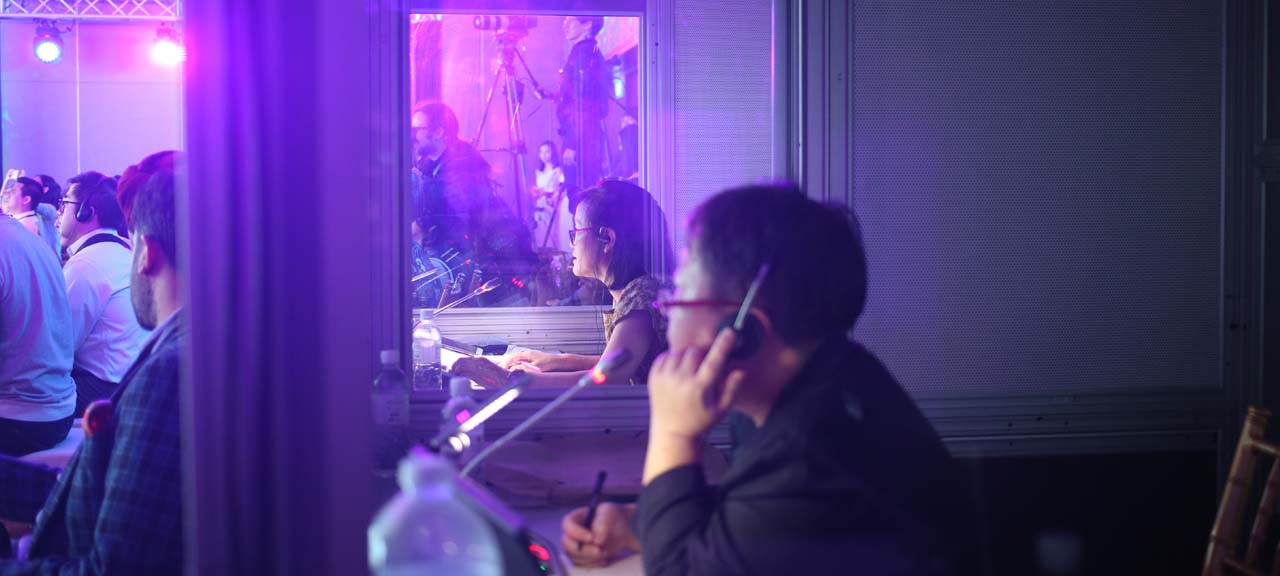 Translators inside booths doing real-time translation for insertion into live webcast.
Watch out for the 'live' streaming of the AAYFF 2018 gala event.
Date: 4th Apr 2018

Time: 5:30pm - 10pm

Location : The Moot, Tanglin Trust School (Level 5, The Nixon Building)




Mult Platform Simulcast
Across Asia Youth Film Festival 2018 will be simultaneously broadcasted to the following locations listed below. 720p resolution limit for facebook Live. However 1080p Full HD Version is being streamed to live.motionmediaworks.com which is then embedded on the Tanglin Trust School's home page.
Across Asia Youth Film Festival Facebook Page
Tanglin Trust School Facebook Page
Across Asia Youth Film Festival Webpage
If you would like to attend the gala event, and we highly recommend the experience, Book you tickets here!
Or visit the Motion Media Works live webcast platform.
Training Conferences
Keynote Events
eLearning Video Streaming
Let's discuss how O'Reilly Media the leader in Technology and business training, worked with us to populate their e-Learning platform at training conferences. Breakout rooms and keynotes were recorded and populated to the learning platform. Attendees could sign on and get access to the conference training and content online. Offsite, people can subscribe to training content that includes multi-screen recordings of laptop programming process and videos of the presenters either as full screen videos or picture-in-picture layouts.
Press Conference Video Streaming
Global Live Webcast
Singapore Airlines held a press conference to unveil its highly-anticipated new cabin products, which will be implemented to its Airbus 380 fleet, over an extensive four-year development programme. Shrouded in secrecy with a press embargo, we were involved in the early stages of documenting this process (a different story for a different time), the 'live' global webcast had to take into consideration information that must not be leaked to the public, until the embargo has been lifted.
Password Protection
With the Motion Media Works live streaming platform, we were able to password-protect the webcast and make it available to the global offices of Singapore Airlines.
Analytics
Because we operate the servers, we had full access to the logs and could analyse where traffic was coming from, down to the IP level, and how were the referrals being passed. Also useful for identifying corporate infrastructure bottlenecks and possible methods of solving them. Our engineers are both broadcast and IT ready.
Product Launch Live Video streaming or feed.
Lexus streams brings it's new LS series launch from The Wine Vault to a wider audience on Facebook live for those who might not be able to make it for the event.
A challenge for any live streaming event is internet connectivity as the most remarkable and inaccessible locations are also paired with nonexistent internet connectivity. However with Motion Media Works broadcast anywere solution we were able to get connectivity from any remote location and stream live in a reliable manner.
Events Highlight Video Production
The good thing about event highlight videos is that you can use it as soon as the event wraps. A great strategy to maximize your investment for a highlight video is that you can use it 365 days of the year until the next event comes up.
IBM participated in Fintech Singapore with an open broadcast studio at its exhibition booth.
Holding 'live' conversations and presentations with participants that's streamed to Facebook live where viewers were able participate in Question and Answer sessions with the ongoing show at the Singapore Expo.
Popup Temporary Studio
We have all seen the benefits of adding a barista to an exhibition booth. Now see the results of setting up a popup broadcast studio at the booth. Get an overflowing crowd around your booth while you deliver to on-location attendees and remote online viewers.
Video Support for live outdoor events.
Fast Video Production
Struggling to get the event highlights while its still fresh on people's lips? It doesn't get fresher than 'live' realtime streaming video. Stream 'live' so participants can share, comment and have it ready to view as an on-demand video, ready for playback immediately after or during the event if they couldn't get close enough.
Edited in Realtime
Muiti-cameras can be switched in realtime, allowing for a polished and edited feel. Just because we are 'live' doesn't mean it has to look unpolished. Audience expectations are constantly evolving, you can be assured that we are at the forefront of technology, constantly pushing the envelope to help your events shine.
Off-Grid Broadcasting
Go 'live' from any remote location without electricity or internet connectivity. Broadcast from anywhere and take your events to an online audience wherever you hold your events. Our experienced crew are here to help.
Prudential Singapore live streams their Relationship Index Forum on Facebook Live.
Hosted by Gurmit Singh at the Red Dot building at Maxwell, this event was held in the early stages when Facebook introduced live streaming to their platform and API access was just made available to allow for professional streaming with broadcast equipment and multiple cameras.